What is Steigerbouwer?
Steigerbouwer A or Monteur Steigerbouw is the name of permits for scaffolding assemblers applicable in the Netherlands and Belgium (often also in Germany, Austria and Scandinavia).
From 1 January 2017, the Netherlands and Belgium also require the Monteur Steigerbouw/Steigerbouwer A certificate with the DNV GL (DET NORSKE VERITAS) logo.
The permits are issued by a Dutch examining institute and are valid for 5 years.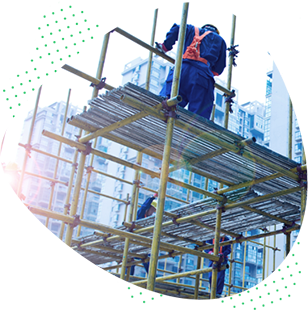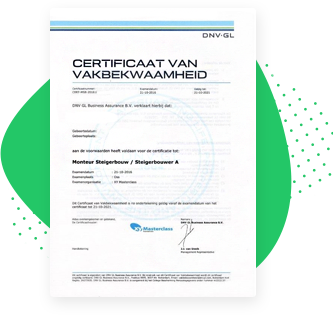 Steigerbouwer A / Monteur Steigerbouw certificate
The Steigerbouwer A/ Monteur Steigerbouw certificate is issued in the form of a diploma, it includes the logo of DNV GL and the examining institute, and is valid for 5 years. The certificate is issued along with a plastic card with a photo.
The Netherlands only require and approve a certificate accredited by the DNV GL institute.
The online database with the Steigerbouwer certificate numbers is available at www.certcheck.nl administered by the DNV GL Institute based in the Netherlands.
Training courses and exams
Steigerbouwer/ Monteur Steigerbouw
The Steigerbouwer/ Monteur Steigerbouw training embraces guidelines developed by the DNV GL institute in accordance with the Scaffolding Directive applicable in the Netherlands.
The Steigerbouwer certificate is intended for scaffolding assemblers - three- or four-day training concluded with a theoretical and practical exam.
The training courses and exams are available in Polish, English or Dutch.
Prices of the training course and exam:
In the Netherlands: EUR 1077
Program
Scaffolding designing
Planning work
Worksmanship
Assembly
Operation
Key tasks and skills
Terms and definitions
Duration
The stationary training is conducted in Polish, English or Dutch, duration: 3 or 4 days, 8 hours each (with breaks for coffee and meals)
Purpose
The purpose of the training is to get the employees and subcontractors acquainted with the regulations concerning working as scaffolding assemblers according to the Dutch regulations, and prepare them for passing the theoretical and practical exam.
Duration
1 day, 8 hours (with breaks for coffee and meals)
Form of exam
Consists of the theoretical and practical parts. The theoretical part lasts max. 2.5 hours. The practical part lasts max. 4.5 hours and requires the assembly of a scaffolding according to the technical drawing. The exam can take place in the Netherlands.
Conditions for takiing the exam
safety braces with a (large) hook for bracing
protective goggles
gloves
work footwear
work clothing
helmet
hammer
spirit levels
passport photos, 2 pcs.
valid ID or passport and copy of both sides